Hair removal is the most time-consuming beauty process. And what works best for me when it comes to hair removal is epilating. I'm not a fan of shaving because the hair grows back quickly, and it feels a bit thicker each time. To have smooth skin, you have to shave every 1-2 days, which honestly irritates my skin. 
I tried epilating for the first time when I was a teenager, and I was interested in hair removal, but I wasn't so consistent with it back then. I'd always go back to using a razor, and when the hair would grow back, my skin would get itchy and irritated. So then I'd go back to epilating. It was a never-ending cycle. Until one day, I decided to throw away the razor and use only an epilator.
I'm so used to it now that I don't even own a razor. If I see hair growing, I can quickly get rid of it and not have to think about it for at least a week, sometimes even longer than that. It's convenient, quick and it gives me long-lasting results! And that's what I like about it.
Why You Should Consider Epilating
WHAT IS EPILATING?
An epilator works similarly to waxing because it removes the hairs from the roots. However, there is no wax involved, which also means no mess. An epilator is basically a tool that uses rotating tweezers to pluck away hair by tweezing it very quickly as you glide it across the skin.
DOES EPILATING HURT?
If you're new to epilating, yes. It does hurt a bit the first few times, especially if you've been shaving before and the hair is a lot thicker and coarse. However, each time you epilate, the hair comes back thinner, and it's not painful at all.
Think of it as tweezing your eyebrows. Does it hurt? The first time you did it, it probably hurt a lot, but now you're so used to it that the pain is bearable.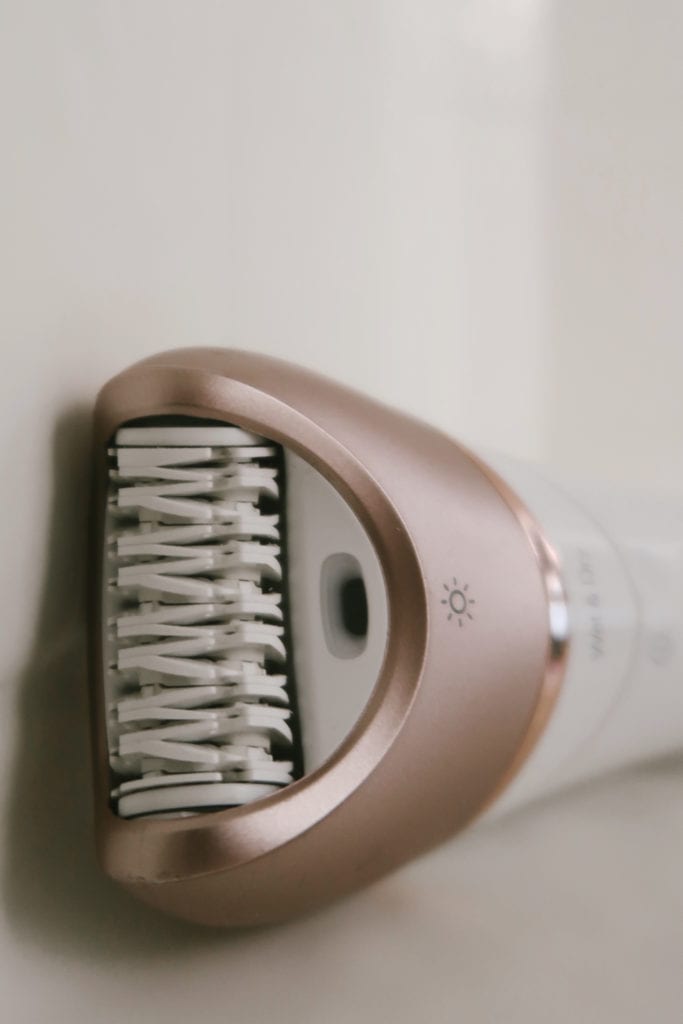 WHY DO I CHOOSE TO EPILATE INSTEAD OF SHAVE OR WAX?
The main reason I choose epilating and not shaving is because of the results. Hair doesn't grow back for 2-4 weeks and when it comes back is a lot thinner. 
Since hair grows at different rates at various places, I do touch-ups weekly. So once a week, I grab my epilator, turn on a show, and I get to business. It takes me around 40min to epilate my entire legs, bikini area, armpits, and arms. 
While epilating is very similar to waxing, you have to wait until the hair is a bit longer so the wax can grab it. An epilator can pull hair as short as 0.5mm, which means that you can remove it pretty much as soon as you see it. Another disadvantage of waxing is that it can be harsh on the skin, and it can remove skin cells during the process, which causes irritation.
Another thing I've noticed after epilating for many years now is that some of the hair on my legs is not coming back, and that's because epilating can break hair follicles, which means that you'll notice less and less hair growing back over time.
On top of that, epilating saves money. You buy an epilator, and you use it for years. Just think about the amount of money you spent on razors or waxing appointments. I've only owned three epilators in my life, and the last one I bought was only because I wanted an upgrade from my second epilator.
EPILATING ON DRY VS. WET SKIN?
I've tried both, and I find that epilating on wet skin can be less painful, but it also takes twice as much time, and it's not as effective as epilating on dry skin.
Have you tried epilating? What are your thoughts on that?