Have you tried tongue scraping? I bought a tongue scraper a few years ago, and I don't think I'll ever go back to not cleaning my tongue properly. Scroll down for all the info you need to know on tongue scraping!
You may be thinking, well, I brush and floss my teeth, then use mouthwash. Do I really need to add yet another thing to my to-do list? The short answer is YES! Tongue scraping is life-changing.
So, let's talk about it in more detail, shall we?

WHAT IS A TONGUE SCRAPER?
A tongue scraper is a small metal tool (or plastic, but I prefer the metal ones, and I'll talk about that in a bit) that cleans the upper surface of the tongue. Think about all the bacteria that builds up on top of your tongue and causes bad breath. Yep! I'd like to get rid of that, please! Pass me the tongue scraper!
Did you know that while we sleep at night, our bodies cleanout so many toxins and part of them end up as a coating on our tongues? If not cleaned properly, we end up re-digesting everything back in our body. It's like a never-ending cycle.
PLASTIC VS METAL TONGUE SCRAPER?
It's entirely up to you. You can go with plastic or metal tongue scraper, depending on your preference. However, I prefer a metal one, and I thought here are a few reasons:
+ First and foremost, metal is easier to clean, and it prevents the build-up of bacteria on the tool itself.
+ It lasts longer. You'll end up replacing a plastic tongue scraper as often as you replace your toothbrush, while a metal one can last for long periods.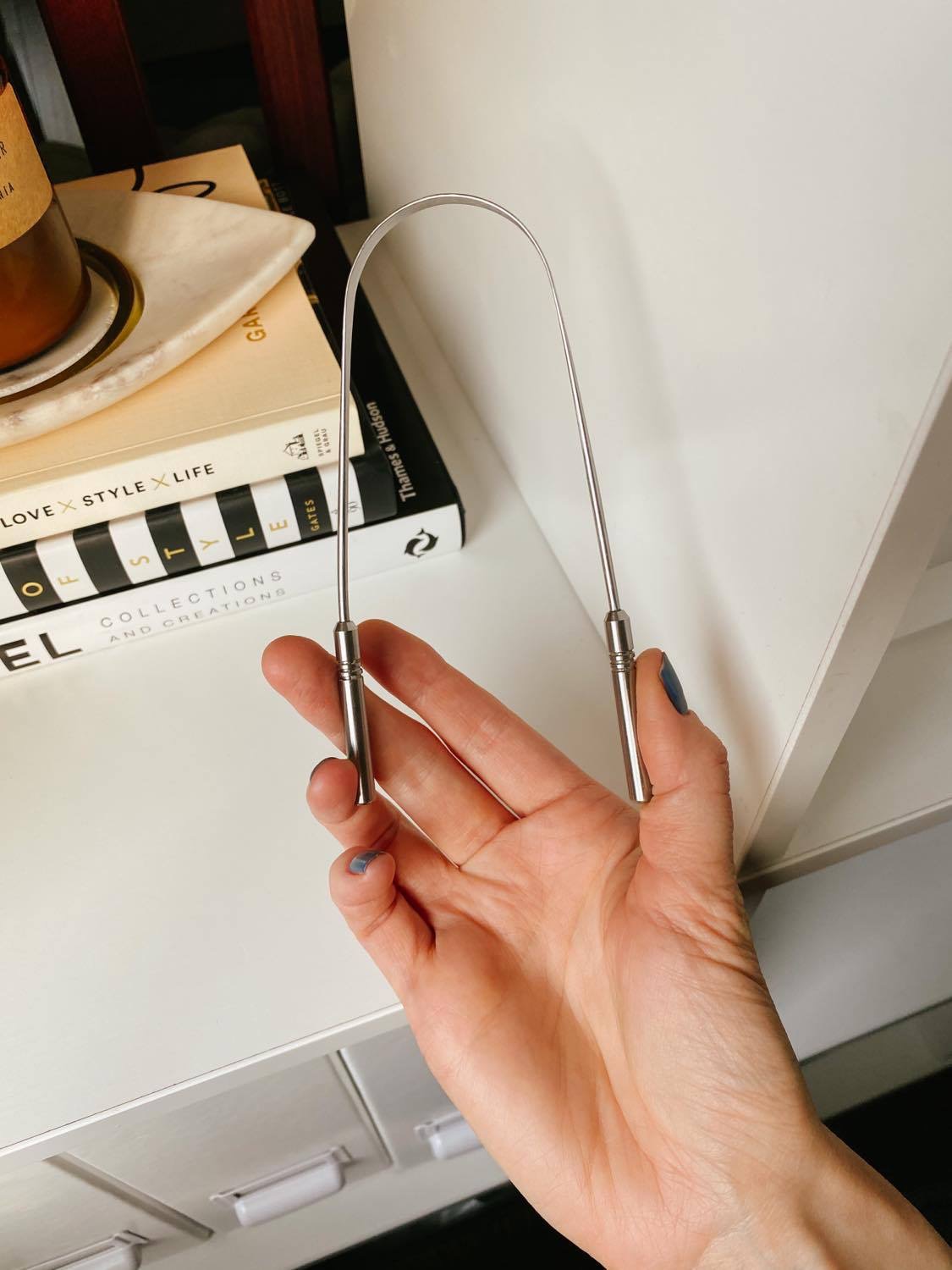 HOW OFTEN SHOULD I BE SCRAPING MY TONGUE?
Bacteria builds up after eating and drinking, so you can scrape after each meal. However, I do it in the morning and in the evening, when I'm brushing my teeth, which is the minimum. It takes an extra minute or two and it's so worth it.
HOW TO USE A TONGUE SCRAPER?
It's very easy and straightforward. Stick out your tongue. Grab each end of the tongue scraper, then set the rounded end of the tool at the back of your tongue and gently scrape from the back of the tongue to the tip.
After each use, rinse your mouth and wash the tool. I wash mine with water and soap, then I rinse it with hot water.
WHAT ARE THE BENEFITS OF TONGUE SCRAPING?
+ Reduces bad breath.
+ Improved sense of taste.
+ Better overall oral health.
+ Prevents cavities.
According to a study using a tongue scraper removes 75% of the bacteria in the mouth, while a toothbrush removes only about 45% of it.
If you'd like to improve your oral health and hygiene, you should try tongue scraping. It's also such a small tool that you can take it with you anywhere you go. You can put it in your bag, or luggage.