Ever since I turned 30, which was four years ago, I've been paying a lot more attention to my skincare and the products I use on my skin. I still test many products, but I don't necessarily buy something because it's a specific brand name. Ingredients are just as important to me. 
One ingredient that I'm using regularly is retinol. I feel that it helps to keep my skin youthful while reducing fine lines and wrinkles. 
Today I wanted to share with you a product that I found that contains retinol. It's particularly effective for women with mature and aging skin. This product combines two potent ingredients. One of them is retinol and the second one is Bakuchiol. 
If you've never heard of Bakuchiol, think of it as an alternative to retinol with the same benefits but more skin-friendly. I'm saying that because after doing my research, I found that Bakuchiol is less likely to aggravate the skin. Something that a lot of people are experiencing with retinol. So if you have sensitive skin, you might want to get a product with Bakuchiol in it. This way, you get the retinol results without the irritation that may occur from the retinol. 
The product I wanted to share with you is the Firm & Lift retinol serum that contains Retinol 2.0 + Bakuchiol. It's a highly concentrated serum that helps firm and lifts the skin, duh! 
 Here are a few things to know about it and decide if this is a product you'd like to incorporate into your nighttime skincare routine. 
The serum is made with no harsh preservatives, parabens, artificial dyes, or fragrances. It's also cruelty-free and made in the USA.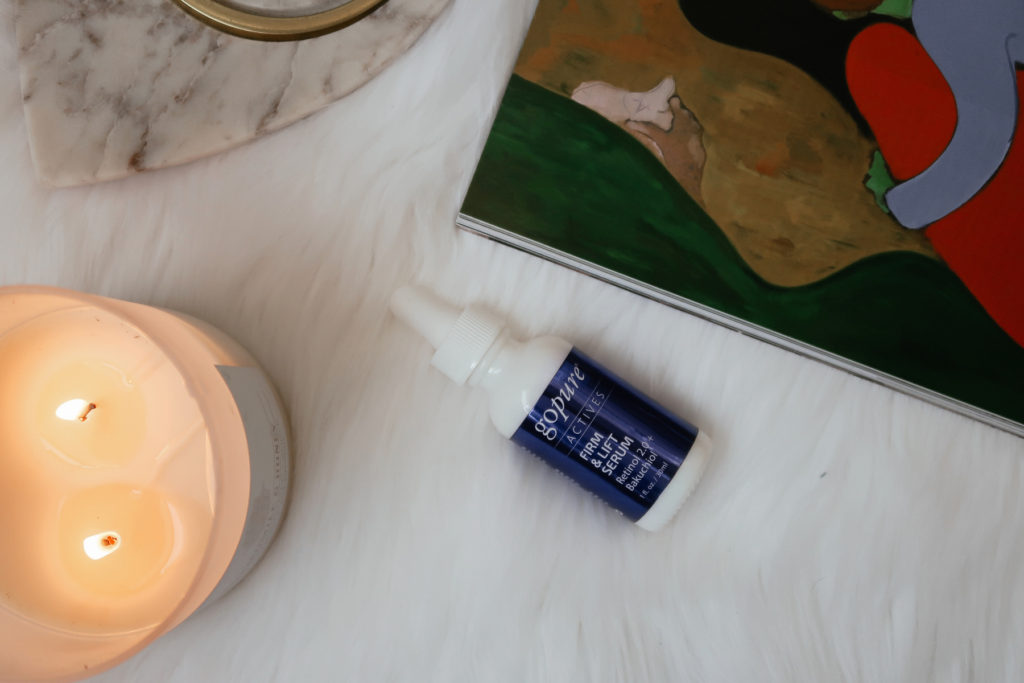 WHAT ARE THE KEY INGREDIENTS?
+ Hydroxypinacolone Retinoate (HPR), which is next-generation retinol that doesn't irritate the skin. Recent studies also show that HPR effectively refines the skin and reduces fine lines and wrinkles. It actually supports collagen synthesis eight times more than retinol.
+ Tamarind Seed, which is an alternative to Hyaluronic Acid and it's proven to work better at hydrating the skin while improving skin elasticity. It leaves a smoother look and protects the skin from aging.
+ Bakuchiol, which I mentioned above. It is an antioxidant that improves skin brightness and tone plus leaves you with plump, firm skin. 
Now when we know the ingredients, let's get into the practical stuff. 
HOW TO USE THE FIRM & LIFT SERUM?
You don't need a lot of product. It's a powerful serum, so you only need 5 to 6 drops. I usually do six drops. Then I like to warm up the product between my fingertips for a few seconds before applying it to my face, neck, and chest. 
I feel that warming it up before application helps my skin absorb the serum better.
Then I wait for a few minutes before moving on to my moisturizer. This way, I allow the product to sink into my skin. I want my skin to absorb all the nutrients before applying the next layer of skincare.
WHEN TO USE THIS RETINOL SERUM?
You can use it morning and evening. However, I prefer to use a vitamin C serum in the morning and then the Firm & Lift serum in the evening. I also feel more comfortable using retinol products at night and not during the day.
If you decide to use the product during the day, just don't forget to wear sunscreen with an SPF 30 or above. 
Have you tried adding a retinol serum to your skincare routine? I'd love to hear about your experience. You can comment below or DM me on Instagram.