When it comes to my everyday looks, I'm always in casual outfits. Although I do wish I had more opportunities to wear formal attire, it's not part of my lifestyle, and it doesn't happen very often. So in the meantime, I work with what I have. Today I'm going to show you 4 easy casual outfits that you can try and a few ways to add a little twist to an overall simple look.
Easy Casual Outfits to Try Right Now
Add a blazer
Adding a blazer to any casual look is such an easy way to dress up your outfit. Even a simple tee and jeans look way better with a fun blazer on top. For this look, I'm wearing a plaid blazer, cropped pair of jeans, a black belt, a sleeveless turtleneck, and black loafers. This look can easily transition from day to night if I switch my loafers with heels and add a statement necklace.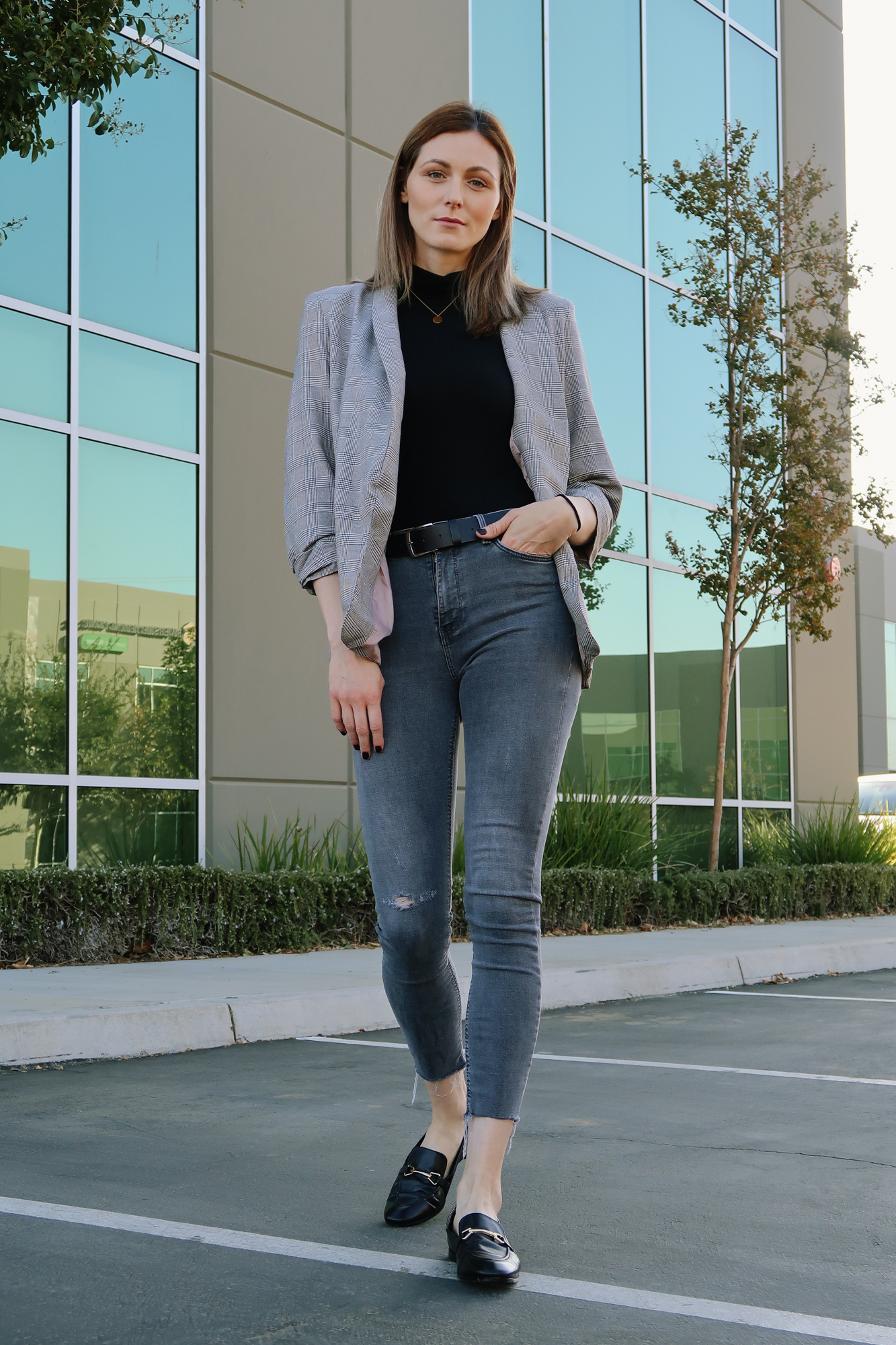 Blazer: SheIn / Turtleneck top: Asos old (similar) / Belt: H&M / Necklace: Amazon / Jeans: Zara (similar) / Shoes: Zara (similar)

Wide Leg Trousers
A classic cut, wide-leg trousers will always be in style, and the great thing about them is that they look good on anyone. No matter how tall you are. I prefer mine high-waisted and floor-length. I feel like this creates a more elegant look, rather than cropped versions of wide-leg pants. To compensate for the wide fit on the bottom, I styled them with a fitted turtleneck. This casual outfit can easily transition from summer to fall if I add a leather jacket on top.
Top: Asos old (similar) / Pants: SheIn / Necklace: Amazon / Backpack: Forever 21 old (similar) / Shoes: Zara (similar)

High-Neck Sweater
There is something flattering about a high-neck sweater, and what I like about this one is the gold buttons. Finding a sweater with an interesting detail will quickly add visual interest to an overall simple piece.
Sweater: SheIn / Belt: H&M / Jeans: Zara (similar)

Ruffle Dress
Usually, I will style this type of dress with a pair of chunky boots. However, this time, I added a camel coat that matches perfectly with the light brown pattern on the dress, and these block heel boots, I've had for years for a more feminine look.
Dress: SheIn / Coat: SheIn / Boots: old (similar)

SheIn is offering all of you guys 15% off your entire order with code Q4cupsand.
What did you think of these easy casual outfits? Which one would you like to try?