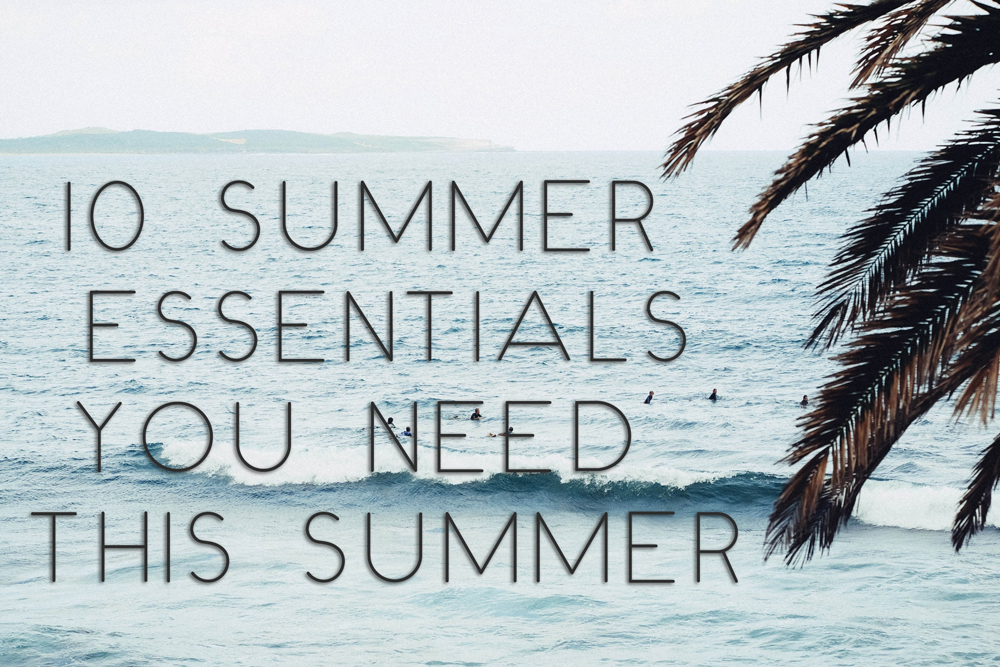 Summer is here and I couldn't be more excited. Weather is warming up and even though we didn't get a proper Spring this year, Summer surprised us at the beginning of June. Below is my list filled with ten summer essentials, you need for the summer.
1. Sunscreen
One thing I'm constantly purchasing and using throughout the year (yes, I do it even in the winter) is sunscreen. I'm a true believer that the sun can really damage your skin and I don't happen to be a huge fan of premature aging or skin cancer, so I do my best to avoid those things by choosing a good sunscreen with high SPF factor for my face. I also like to use a lip balm with an SPF. I put it on before I leave the house and if we are going to spend the day outside, I carry a sunscreen in my purse and re-apply it every couple of hours (especially if we are going to the beach). If you ask my husband, he might tell you I'm a bit crazy when it comes to sunscreen but hey, I'm okay with that. 🙂
2. Sea Salt Spray
In the summer, I try to straighten my hair as little as possible. Instead, I use texturizing sprays to give my hair those pretty beach waves. My favorite now is this texturizing spray which smells very nice and it works great on my thick hair. I usually put it on towel dry hair right after I take a shower.
3. Books
I love books and I have a book with me at all times. Either an audiobook or e-book which I keep on my phone and I can read while waiting in line or just when I find a few free minutes. Though when we go on vacation I prefer to bring a printed book that I can take with me to the beach or the pool. Below I'm sharing some of my favorite books I want to read this summer.

4. Beach Bag
Having a cute beach bag is essential for the summer. Something roomy enough to fit all my essentials and it's also multifunctional, so I can use it while on vacation and even throughout the rest of the summer.
5. Sunglasses
I usually have a couple of sunglasses that I love and wear throughout the year, but when we go on vacation I buy a few pairs of cheap sunglasses that I can wear at the beach and I don't feel guilty if I drop them on the sand or scratch them.
6. Hat
Hats are something I wear mostly in the summer. Throughout the year, I like having different beanies and fedoras but hats are definitely not an accessory I'd wear every day. Summertime's a completely different story. I love wearing big beach hats that completely cover my face and protect me from the sun at all times.
7. Swimsuit
A swimsuit is one of the first things you probably think about when someone mentions summer. I'm listing some of my favorite ones here.
8. Cover-up
I like to buy one classic cover-up and a second one that is a little more fun and just switch them up while on vacation. Cover-ups are an easy way to throw on something on top of your swimsuit and head to the pool without feeling too exposed.
9. Beach Towel
I like having a pretty beach towel for the summer. There are some really affordable and cute options I'm listing below.
10. Flip-Flops
Flip flops are one of the most important summer essentials. After living in California for 7 years, I learned to really love flip-flops and I'd take any opportunity to wear them. When we go on vacation I wear flip-flops around the hotel, the beach, the pool or at breakfast. I might even wear them if we take a short walk throughout the city.
What are your favorite summer essentials? Let me know in the comments below.