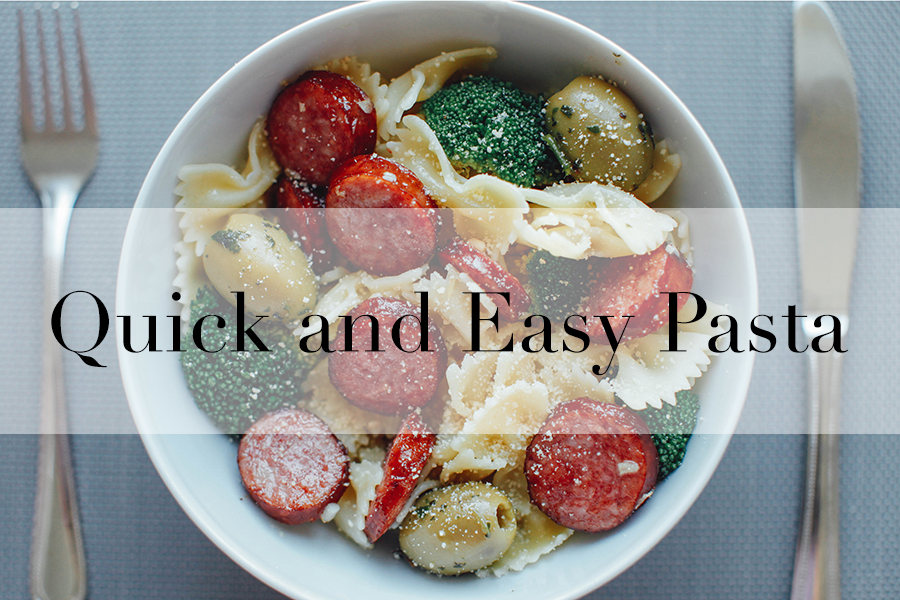 This quick and easy pasta recipe is my go-to meal for busy days.
QUICK AND EASY PASTA RECIPE INGREDIENTS:
2-3 cups farfalle pasta (you can use any type of pasta)
7 cloves garlic, chopped
1 1/2 cups broccoli
1 Italian sausage, sliced
Parmesan cheese
olive oil
olives (optional)
STEP BY STEP:
Cook the pasta per instructions on the package.
In a saucepan with boiling water, add the broccoli and boil for 1 minute. Then add to the drained pasta.
In a sauté pan, add the olive oil and sausage and cook for 4-6 minutes. Add the garlic in during the last 2 minutes. If you add it earlier, it might burn because it cooks a lot faster than the sausage.
Add the pasta, broccoli, sausage (including the olive oil), garlic in a bowl and mix. Serve with parmesan cheese. If you like olives, add a couple of olives per serving. Voila!
I would love to know what you think about this recipe!