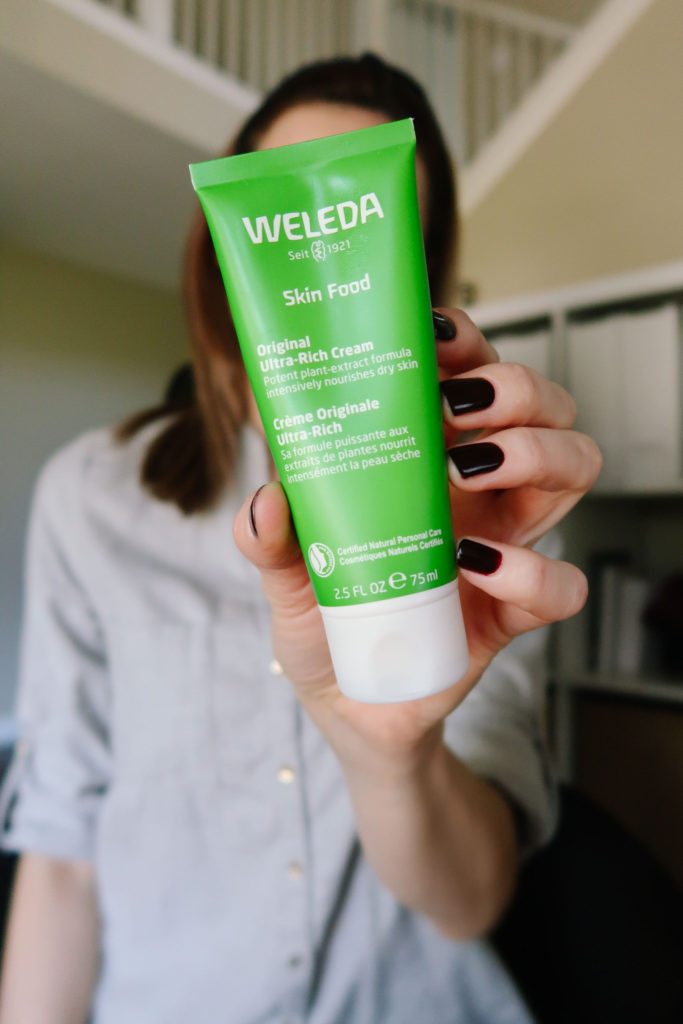 The first product that comes to my mind when I think of affordable skincare products is Weleda Skin Food. You probably have heard me talk about the brand on multiple occasions on my Instagram Stories. That's because I'm a huge Weleda fan, and I buy pretty much everything they make, even their baby line, which works really well for my kids.
Although Skin Food has been around for many years (it launched in 1926), I found out about it a few months ago. At that time, I was having the hardest time finding a moisturizer that is rich enough to quench my dry skin. Most creams I would try would feel great right after application, but an hour later, I had to follow up with a thicker layer because the skin on my face felt like it would crack, quite literally. It just felt extremely dry!
At first, I was a bit surprised by the thick texture of Skin Food. It is a very rich cream but it absorbs quickly. It kind of feels like you are applying a heavy cream, and many people compare it to LaMer. So if you love LaMer but don't really love the price tag attached to it, Skin Food is a great option. And don't take my word for it, many celebrities are obsessed with the product. Think Rihanna, Julia Roberts, Adele, Victoria Beckham.
WHY CHOOSE WELEDA SKIN FOOD MOISTURIZER?
Skin Food is an all-natural product that hydrates, smoothes, moisturizes, and leaves you with this gorgeous, healthy-looking glow. Besides, it has the most sublime herbal smell, and it is packed with some fantastic ingredients that are so good for you.
Sunflower seed oil, which is high in Vitamin E and helps reduce signs of aging.
Sweet avocado oil is excellent for sensitive skin and has a high content of unsaturated fatty oils.
Beeswax and hydrolyzed beeswax, which both help to hydrate and moisturize.
Chamomile flower extract which has a soothing and regenerating effect.
HOW TO USE WELEDA SKIN FOOD MOISTURIZER:
Okay, here comes the fun part. Everyone uses this product differently, so it really depends on your personal preferences. Since the texture is quite thick, I prefer using it in the evening, by applying a generous amount all over my face. I even use it around the eye area and haven't had any complaints or adverse reactions. It feels incredible, especially during the colder months when my skin tends to get drier than usual.  During the day or the warmer months of the year, I prefer Skin Food Light, which is not as creamy but hydrates and absorbs just as quickly as the original product. If you have oilier skin, you might like the Light version better.
Here are a few different ways to use Skin Food:
Hair Serum – If your hair is dry and frizzy, you can apply a little bit to the ends and to tame the frizzies.
Face Mask – Apply a thick layer to your face and let it sit for 10-15 minutes, then take it off with a damp muslin cloth.
Lip Balm – Great to soothe and moisturize dry lips, or just get the Skin Food Lip Butter.
Cuticle Cream – It does a great job of nourishing your cuticles and keeping your hands from drying out.
Highlighter – Apply to cheekbones, brow bone, and nose after foundation for a natural and dewy glow.
Basically, you can use the Weleda Skin Food product anywhere your skin feels rough and dry – face, hands, feet, elbows, neck, etc. And make sure to try their body butter and lip butter. Ahh! Weleda just take my money!
SHOP WELEDA SKIN FOOD MOISTURIZER: