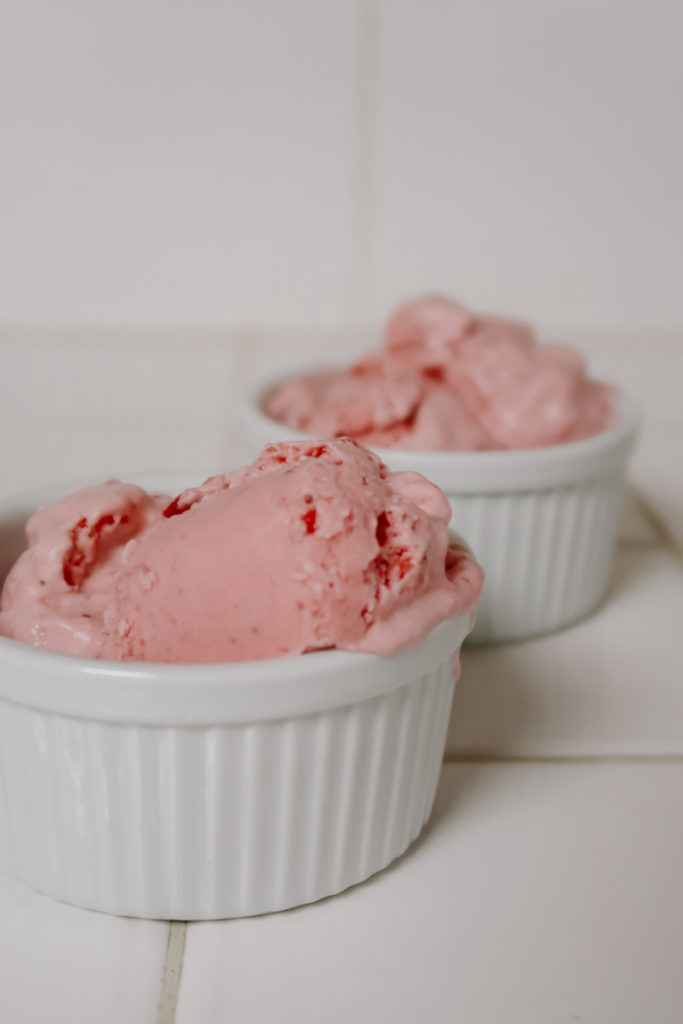 Let me start by saying that I have a huge sweet tooth. And we all know what sugar does to our teeth. It's good but bad at the same time. So to keep my dentists' visits to a minimum, I try to make sweet treats like this homemade strawberry ice cream recipe at home. This allows me to know what is in them, and to easily adjust the recipe to my liking. Not sweet enough? No problem, I can add a date. It will add just the right amount of sweetness to any dessert.
This homemade strawberry ice cream is delicious, and it contains only three ingredients – fresh strawberries, heavy cream, vanilla extract. And it's so easy to make too. You simply put all of the ingredients in a blender, then transfer to a pan and put it in the freezer.
HOMEMADE STRAWBERRY ICE CREAM RECIPE:
Ingredients:
3 cups fresh strawberries
2 cups heavy cream
1 tbsp vanilla extract
stevia or any other sweetener (optional)
Instructions:
+ Add 2 cups of the strawberries, the heavy cream and vanilla extract to a blender. Blend well.
+ Then add the rest of the strawberries and blend just enough to break the strawberries. We still want to have little pieces of strawberries in the mixture. That's the best part, isn't it?
+ Pour the mixture into a pan, cover and place it in the freezer.
+ Freeze for 3 hours.
TIP: To keep the mixture nice and creamy, stir it a few times during the freezing process. This will prevent the forming of ice crystals.
It's the perfect dessert to make for the whole family. Our family loves ice cream and I feel okay letting Belle and Liam eat this homemade strawberry ice cream. However, I don't feel the same way about store-bought ice cream. It usually has more than 20 ingredients and I have no idea what half of them are.
Do you enjoy making easy healthy treats like this one?